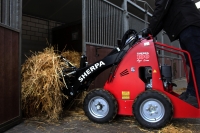 We are delighted to announce our appointment as the dealer for Sherpa Mini Loaders for Northern Ireland and Ireland!
Sherpa Mini Skid Steer Loaders are compact, versatile and extremely manouverable machines suitable for indoor and outdoor uses and perfect for working in tight spaces and restricted access areas. Its small size and wide range of available attachments makes it the ideal machine for many industries and work environments ranging from farm/equestrian yards and stables to tree surgeons/arborists to landscaping/paving contractors and demolition contractors.
We believe the Sherpa mini loaders will compliment our MultiOne compact loader franchise and due to the increasing demand for labour and time-saving machines we anticipate these machines will be a huge success as we grow our compact loader business.
Sherpa Mini Loaders, manufactured in Holland, have been established for 30 years and have developed the mini skid steer range from solely petrol machines to also include diesel and electric ranges using only quality branded components like Honda and Kubota engines and Rexroth pumps.